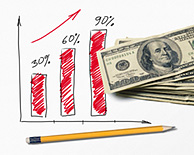 The Whole Picture
We can see how many visitors come to your website each day, how many pages they looked at, even how long they spent reading each page. This information we use to fine-tune the websites to perform better and better.

You on the other hand, know how many of the calls turned into bids, how many turned into sales and how many made a respectable profit.

That's where our reporting comes in.
Each week, we email you easy to read reports that show you:

Analytics Reports



How many total visitors came to the website.
How many unique visitors came to the website.
How many of those visits were paid clicks.
How many total pages were viewed.
Average page views per visitor.
Average time visitors spent reading the website.
How many visitors bounced from the website (came to the home page and left without clicking anything)

Ad Performance



How many people saw your ads on the Internet.
How many people clicked on the ads (paid visits).
How many free visitors came to the website.
Your ad position on the search engine page (ranking 1-10)

Marketing Performance



Number of Emails from the website contact forms received.
Number of Telephone Calls to the website phone number.
A detailed phone log report showing the Call time, Duration, Callers phone number and Duration of each called received.
Knowledge

We send you this information to you so you can see the whole picture and spot trends specific to your territory. In no time you can gain insight on consumer patterns that are affected by the weather, the economy and even your competitors.

Since we do not follow up with a pop-quiz, you are free to dispose of these reports without bothering to look. However, we can assure you, the more you look, the more you will learn, and that is far more than your competitors are doing.


Have some free time?
We use 3rd party analytics services to track all website traffic for each site.

We provide direct access for you to these analytics services that you can log into, 24 hours a day, 7 days a week, and review live detail traffic to your site. You can see if there are people currently viewing the site while you are logged in!

We do not charge for any of these reporting or analytics services as we feel this information, your information, should be available to you to make informed business decisions confidently.


Getting fancy

If you are looking to spot a trend or get a large overview picture of your traffic, your click budgets or anything else you can think of, we can create those reports too.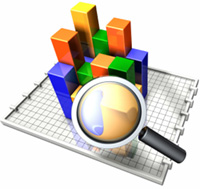 On very short notice, we can provide presentation quality reports in PDF format complete with graphs, pie charts and other spiffy features that meet your data requirements.